This is a Sponsored post written by me on behalf of White Cloud for SocialSpark. All opinions are 100% mine.
I have used White Cloud to wipe bottoms and blow noses, but never tried it for getting stains out of clothes.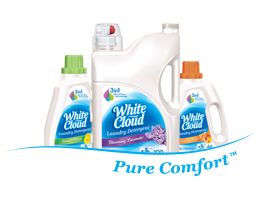 My favorite all time scent is Lavender, so I was anxious to put White Cloud laundry Detergent in the Blooming Lavender fragrance to the test on my kiddos dirty clothes. I have 6 children and laundry is a never ending chore. 
And my kids get dirty….really dirty! We live in the country where anything goes.
The family of White Cloud is a premium brand of household products at Walmart. Since there is a 3-in-1 Micro Clean technology, the detergent helps get the toughest of hard stains out.
My Test
I decided to put White Cloud to the test. I had a pile of stinky dirty socks that I threw in the washer along with the suggested amount of White Cloud Laundry Detergent. I washed my children's nasty socks in warm water.
After the cycle was finished, I anxiously took the clean smelling socks out of the washer and was thrilled to see no signs of dirt on my boys socks. Amazing, huh? I happily threw them in the dryer and couldn't wait to show my kiddos their clean socks.
Of course, I wanted to try getting another tough stain out, so I treated my daughters dress that had chocolate ice cream on the front of it for a few minutes before washing the cotton dress in cold water. I simply put about a teaspoon of the White Cloud detergent directly on the stain. Contently, there are no signs of chocolate ice cream on her little dress.
I am a mom who is on a strict budget and I simply don't have time to try and get tough stains out. White Cloud is reasonably priced and works great on those dirty socks and tough stains. It comes in three different scents – Blooming Lavender, Summer Breeze, and Tropical Fiesta. I prefer to use the liquid, but it comes in a powder form, too.
Yes, I am a happy mom and you can be one, too!
Dare to Compare?
Grab a coupon for White Cloud Laundry Detergent today on Facebook! Check out the Store Locator to purchase your White Cloud Laundry Detergent and try if for yourself.
Disclaimer: Limit one coupon per purchase on product specified. No cash back if coupon is valued higher than product. Void if reproduced, transferred, used to produce products resale or where prohibited/regulated by law. Not valid on trial sizes. Consumer pays sales tax. Redeemable at participating stores. Valid in US only.
Stay Connected!
Follow White Cloud on Pinterest
Do you have a secret to getting stains out of clothes?