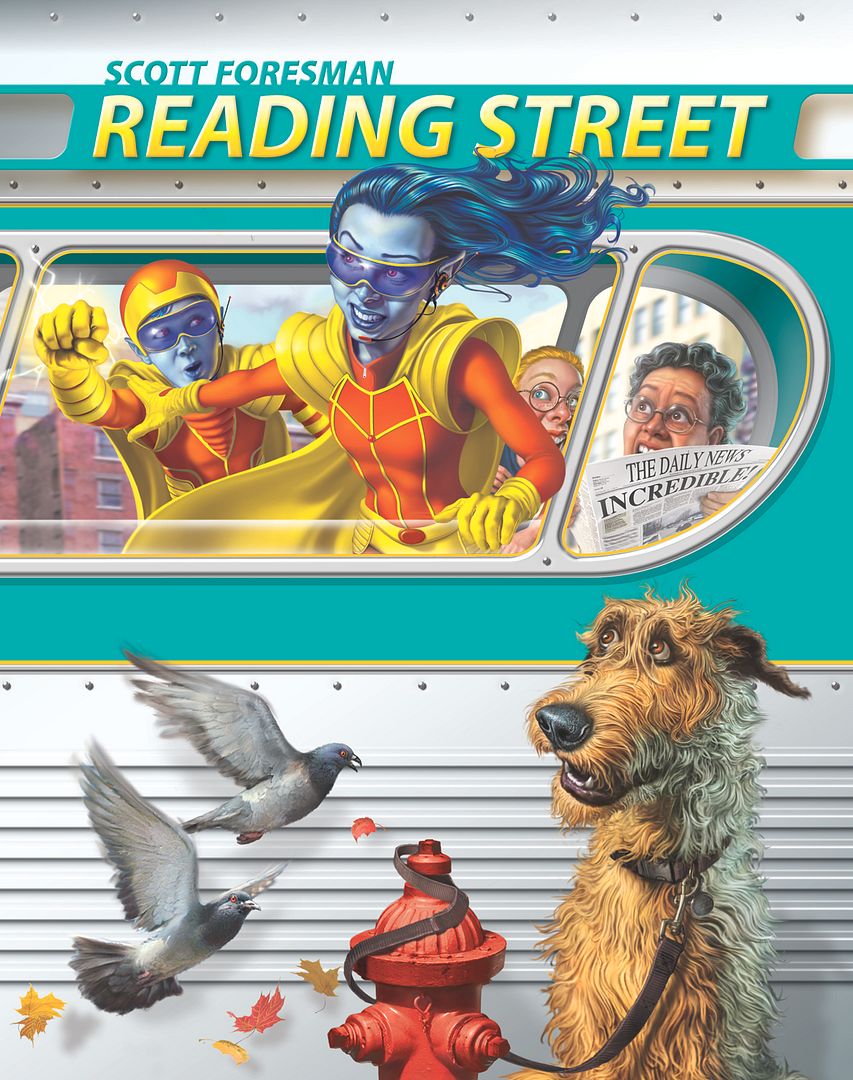 I have to admit that I was not exactly thrilled to be chosen to review a Pearson Homeschool product solely because we are not huge fans of text books, but lean more towards the Charlotte Mason and literature approach.
I had a wide range of Pearson products to select from and finally settled on the 6th Grade Reading Street program.  My third oldest son will be in 6th grade next school year.  I chose him to be the guinea pig on this new text book adventure.  He's so easy going, so it was really no big deal for him.  I kept my text book phobia to myself.  LOL!
As soon as the mail lady dropped off the box, I had him carefully open up the heavy box.  His eyes lit up with excitement and immediately looked through the 2 Student Editions.  He spent a great length of time, just browsing through the pages. The Student Editions are illustrated with beautiful bold colors with age appropriate children that caught his attention for a great length of time.
This is the bundle that my 11 year old son and I reviewed.
6th Grade Reading Street
Student Editions (2 volumes)
Teacher Resource DVD ROM
ExamView CD (for creating tests)
Guide on the Side Instruction Booklet
Parent Guide
It took me a bit of time to familiarize myself with the whole curriculum.  I spent some time sorting through the parent guide.  It all clicked when I viewed the teacher resource DVD ROM.   I decided to print an entire unit out at a time, so I would not have to remember to make copies each week.  Caleb put his worksheets/writing assignments in his literature notebook. I decided to view the answer key on the computer instead of printing each day.
I was thrilled to realize that the 6th grade Reading Street package included more that just reading.  It includes all language arts, such as, spelling, vocabulary, comprehension, writing, grammar, and more.  Wow!  It's all inclusive!  This was a HUGE plus for Caleb. He said having it all together was easier for him instead of rummaging through several different books each day to cover all the different language arts criteria.
Next, I spent time browsing through the Guide on the Side Instruction Booklet.  I love this!  This is what I considered a HUGE training aide for any teacher teaching language arts with any program. I definitely don't think it is necessary to purchase the Guide On The Side in order to successfully implement the 6th Grade Reading Street, but it will compliment any program in the subjects of oral language, fluency, vocabulary, comprehension, and writing .  I wish I had this guide years earlier.
Before Caleb began his first textbook experience, we put sticky notes marking the beginning of the first week's reading in the student text and marked the last page of week one.  Scheduling his reading and assignments was a bit of a challenge for us since it's only broken down into weeks not days.  I placed a number 1-4 on top of the worksheet representing what day of the week he needed to complete the worksheet.  We had to play around with this a bit, but we recognized a pattern per se making it easy for me to assign his assignments each day the next weeks.
Designing the week one test for Caleb on the Exam/View CD was fun.  We don't do a lot of testing due to our homeschool approach, but I do believe test taking is a skill that must be mastered if the student is planning on going to college.  Having the ability to print a test periodically will help him become familiar with test taking.
PROS
beautiful colorful illustrations
non-consumable – huge plus for me since I have 6 children
covers all of the language arts subjects
interesting stories that teaches character and morals
covers history and science in literature – my son adores
student can complete independently after a few weeks
CONS
written from a secular perspective – however, I did not find anything pertaining to evolution, but don't quote me on this
provides a weekly schedule, I prefer a daily schedule
requires extensive amount of time for the teacher in the beginning to familiarize with the curriculum
students only read a glimpse of the stories, not the entire original novel
Overall, I was highly impressed with the 6th Grade Reading Street Homeschool Package once I got my feet wet.  It is highly extensive covering all aspects of language arts with more than enough exercises, worksheets, and extra reading to keep your 6th grader busy.
Caleb absolutely loves it and is going to continue using the program next school year.  He will read chapter books in the evenings, so mommy is happy!
I have to admit, I have a new outlook on texbooks now.  I learned a little lesson here, I must be more open minded because I would have never inquired about Pearson Homeschool products if I was not asked to review their product.
You can purchase the 6th Grade Reading Street here for $124.99.  This price might seem a bit steep, but if you take into consideration that this product is non-consumable and you have multiple children, this is a great price for what this bundle includes.
I received a 6th Grade Reading Street homeschool package in return for my honest review.  No other compensation was given.