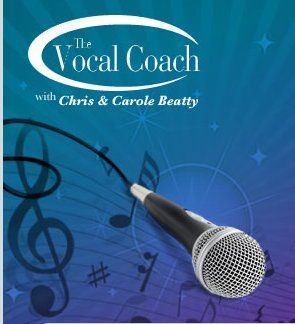 The Vocal Coach will teach you how to sing in the comfort of your own home. Not to mention, you can avoid humiliation as in my case.  I have been deemed the World's Worst Singer by my family and friends.
Seriously, if there was a reality show for The World's Worst Singer, I would win. My son would be runner up.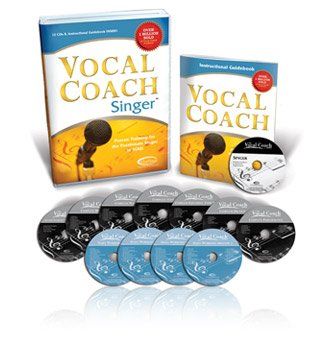 Chris & Carole Beatty, creators and founder of Vocal Coach, have taught and coached thousands of singers, young and old for over 40 years.
My son and I have been enjoying the lessons each afternoon.  We have learned many basic tips and suggestion to help us improve our singing.  We are not expecting to become the next American Idols, but our goal is to sing pleasantly during worship time.
We spend about 30 minutes a day.  It is getting easier and easier as time goes by, especially the breathing exercises.  The first couple of lessons, I had a sore throat afterwards, but that is resolved now.
I was amazed with all the criteria and muscle movement that is involved in singing.  Wow!
The Vocal Coach Singer Training CD's include the following lessons and tips: 
7 Training CDs:
Getting Started
Complete Breathing
Complete Warm-Up
Complete Tone
Complete Expanding Your Range
Complete Diction
Complete Performance
4 Workout CDs:
Daily Workout High Voice 1 & 2
Daily Workout Medium/Low Voice 1 & 2
Plus these great educational tools:
Guidebook – Full-size Instructional Guidebook to Ensure Success
Printable Lead Sheets – each exercise in our course, plus track lists
Personal Singer's Journal (Getting Started Journal & Workout Journal) to Track Your Progress
Vocal Coach Song Evaluation – Evaluation form to enable you to make more intelligent song selections
There is a lot of information covered in the Vocal Coach Singer.  It would be a FUN and effective teaching tool for any family.  
Buy It
You can purchase the
Vocal Coach Singer
 for 119.99.  It might initially seem a bit pricy, but it really is well worth the money when you consider how much voice lessons would cost your family.

Read my thoughts on other products!
I received this product in exchange for my honest review.  No other compensation was given.