I was selected to participate in the homeschool product review for Super Duper Publications and I chose to review their software, HearBuilder Auditory Memory because I remember having difficulty as a child remembering numbers.
My children have been enjoying playing the challenging CD-Rom, Hear Builder Auditory Memory game for several weeks.  It has been a real treat for them because I limit their computer use, but have been a bit more lenient in order to write an adequate review.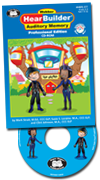 The purpose of HearBuilder Auditory Memory is to challenge your children to utilize their memory skills to the "HearBuilder Recall Agents" as they engage in mission after mission trying to save the people in Memory Town from the silly plans of Dr. Forgetits.  This game improves students auditory memory, closure, and comprehension abilities.  They will also learn key strategies for remembering numbers, words, sentences, and stories.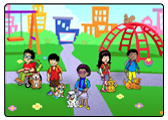 The HearBuilder Auditory Memory software includes 5 essental learning activities.
Memory for Numbers (3-7 digits)

Memory for Words (3-5 words)

Memory for Details (1-4 details)

Auditory Closure (sentence completion)

Memory for WH information (2-3 sentences/2-4 questions)
The game is designed for ages 5 and up.  My 7 year old probably has been enjoying it the most, but he would be a total video game junkie if I allowed him to be.  His favorite game was WH Info and was inspired to get to level 12.  He loves a challenge and definitely was entertained for as long as I allowed him to play each day.
I required my children to print a progress report for me each Friday to see how they were improving.  One of my favorite features of this software is that you can request background noise so the student can get used to working with distractions.  Since we are a large family, it's always noisy at our home.
You can purchase HearBuilder Auditory Memory on Super Duper Publications  website for 69.95.  Honestly, I would never spend this amount on any cd-rom.  Yes, my children enjoy it, but it is overpriced in my opinion.  This product does not fit in our homeshool budget.  However, my children are having a blast playing the memory game and hopefully they will remember to brush their teeth after the first time I tell them and I don't have to demand them a tenth time.
From now through August 31, 2012, Super Duper Publications is offering a 30% discount when you use coupon code: BLGAM30 and that includes FREE shipping.

Overall, the children highly enjoyed the homeschool product review and will continue to play throughout their elementary years.
I received a CD-Rom, Hear Builder Auditory Memory in exchange for my honest review.  No other compensation was given.