This year in our homeschool, we are studying early American History.  It always makes our studies come alive when we can engage in quality literature  selections that take place in that particular time period.
I was selected to review, Lightening Lit & Comp – American Literature Early – Mid 19th Century Student's Guide and Teacher Edition written by Hewitt Homeschooling Resources.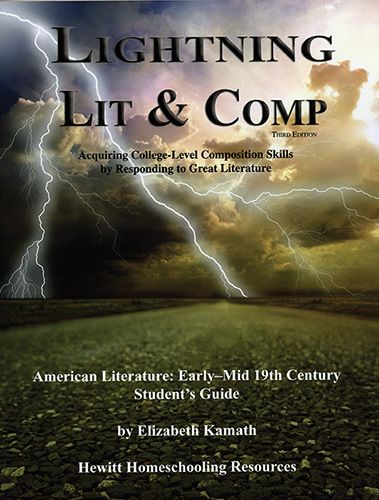 Honestly, I did not know what to expect because the title threw me for a loop.  As soon as it arrived, I was initially impressed with the detailed lesson plans that were included in this course.
The student guide has an in depth introduction that I strongly recommend the parent read carefully.  I encouraged my 2 high schoolers to read the section that tells the student about how to use the student guide and how to get the most out of the course.
The two schedules that are located in the Appendix C recommends either a one or two semester option. Since my children are still young, 9th and 10th grade, we will be completing it in one school year.
The boys completed Unit 1- Lesson 1 this summer.  We purchased the ebook, The Autobiography, and the pages did not match up exactly with the reading schedule, but they were able to adapt.  Having the ISBN # would have been helpful because there were several different books to choose from.
The comprehension questions were very challenging, but I encouraged them each day.  In the section, While You Read, the author presents a couple of questions for the students to keep in the back of their minds while reading the selection.  This was very helpful for my children.
There is a wonderful literary lesson in each lesson that encourages the student to engage in writing a similar type of genre that they just finished reading.  We probably will not use this curriculum for the writing selections because we already have a writing program that we are utilizing.  However, I think it is a very detailed writing program for the junior or senior high school student.  We plan on taking advantage of the literature selections and comprehension questions.
PROS

Very extensive – will prepare student for college-level composition skills
Required books are free or very inexpensive as ebooks

Comprehension questions

- makes student think

Project suggestion

Vocabulary

Non-Consumable

No preparation for teacher

Student works independently
I wish the program came in PDF form, since I have 2 children who are utilizing this at the same time.  They have to share a book which sometimes can be inconvenient.You can purchase the Lightening Lit & Comp Student Guide and Teacher Edition at
Hewitt Homeschooling Resources for 29.95
.  This is a very fair price considering you can use it for multiple children and this program will prepare them for college.
My children are not thrilled with this challenging program, but mommy loves it! It is very well written and I'm sure it will get much easier for them after completing more lessons.  God forbid they should use their noodles!  LOL!

I received Lightning Lit &Comp Student Guide and Teachers Guide in exchange for my honest review.  No other compensation was given.
Have you entered my FUN giveaway yet?