This post brought to you by Piccadilly Restaurants. All opinions are 100% mine.
I am a salad person! I much rather enjoy a homestyle veggie plate over a piece of meat any old day. However, I am aware that it's only healthy for me to obtain some meat in my diet.
No, I'm not a vegan, but I just prefer salads, fruits, and veggies. Unfortunately I can qualify as a carb junkie, too.
My favorite type of restaurants are ones where you can pick and choose your plate to customize it to your preference. After all, you are paying for it, so why should you settle for anything less?
It bugs the devil out of me if the restaurant insists on charging you a small fee for substitutions.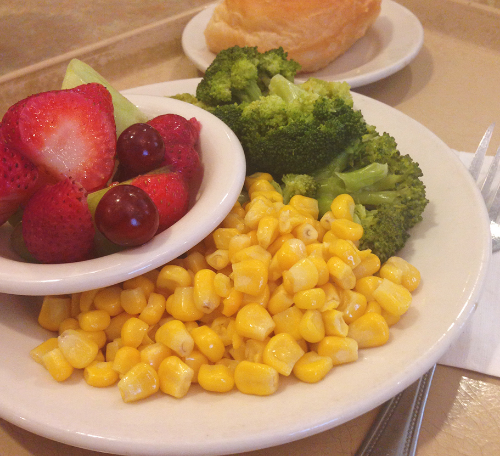 Piccadilly Restaurants allows you to pick three of your favorite sides along with a piece of freshly baked bread. It allows you to eat light and enjoy the foods you adore for only $5.49.
A few of my favorite sides are freshly steamed veggies, Caesar salad, and seasonal fresh fruit. Be sure to check out the numerous healthy sides Piccadilly offers on a daily basis.
Today Piccadilly has over 60 locations and 80 food service locations in the southeast. Check out where the nearest Piccadilly is to your hometown.
So whether  you are a vegan or a carb junkie like me, you can't pass up Piccadilly's Homestyle Veggie plate for only $5.49! It's less expensive than fast food and it's much healthier for you and your family.
Which 3 sides on your homestyle veggie plate are you going to try the next time you dine at Piccadilly's?